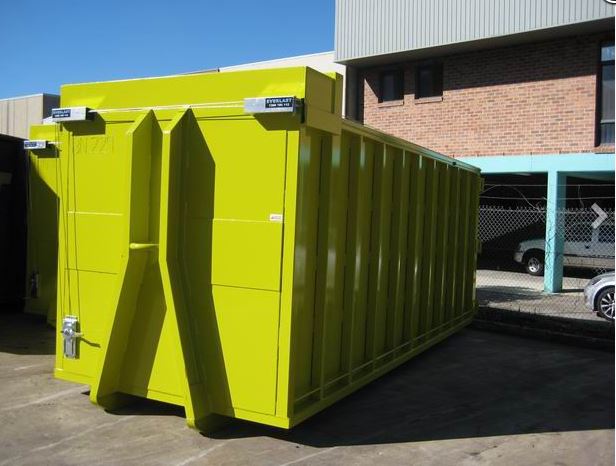 What are Hooklift Skip Bins?
When it comes to waste material of any kind, you are always better off dealing with quality service like Skip Bin Finder – "they know a lot about waste".
From small amounts of domestic waste and garden scrubs to demolition clearance and landfilling. We know there are different skip bins to suit a specific requirement, and that's when our Hooklift skips come into play.
What makes a Hooklift Skip Bin different?
While larger bulks of material are going to require a Hooklift Skip Bin, the main benefit of this type of bin is the loading systems fitted into the truck, so they are designed to lift heavier and bulkier loads with ease.
How do these bins operate?
Hooklift bins do not use a chain and hydraulic hoisting method for loading. Hooklift skips use a simple hydraulic boom to lift one end of the bin before pushing it off or pulling it onto the truck. While the front end is supported and assisted, the rear of the bin moves easily in contact with the ground using steel rollers.
This system relies on sliding and rolling than lifting the weight of the whole bin! Hooklift skips enable a far greater weight and load capacity.
Why should you hire a Hooklift Skip Bin?
These larger capacity bins are ideal for big projects where large amounts of material need to be transported. They suit waste materials that are "less compactable" such as bulk items from demolition or land clearance. These bins are ideal for industrial sites where costs can be controlled when moving larger amounts in bulk.
The one vehicle wins over making several trips using the standard bin sizes. The rear door is an integral design feature of the Hooklift Skip Bin and also provides easier loading via Bobcats and other working plants.
Which Hooklift skip size is needed?
The smallest Hooklift bin is 4m3, and the largest available (on a standard truck chassis) is 30m3. The smaller capacity Hooklift Skip Bins are ideal for projects where side loading is an advantage or material needs to be loaded via the rear door. Hooklift skip bins are very popular on demolition sites where large buildings are dismantled.
Staying safe
It is important that Hooklift skips are never loaded above their level and that the load is secure and evenly distributed before transporting it away. Special and controlled waste can be transported in this way, but as with any type of bin, it must be hired for that express purpose and not mixed with general waste.