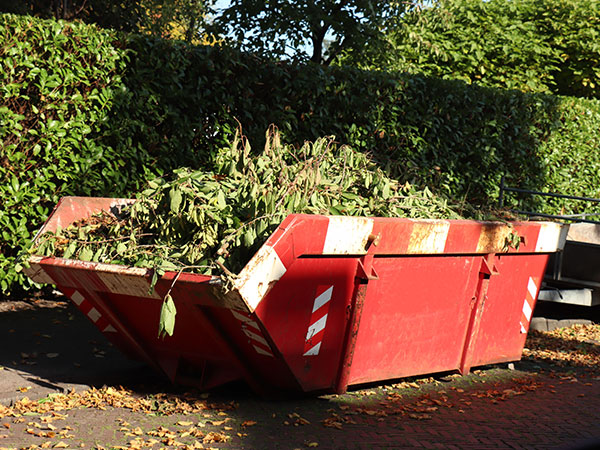 Skip Bins or Local Dumps – Which is Better?
Skip bins or dumps – which is better? You've probably asked yourself this question if you've ever faced a lot of rubbish to dispose of.
Accumulated waste is one of the downsides to owning a home or business. No matter how hard we try, the fact is that we all create waste.
Whether it's packaging, broken furniture, old bicycles, toys and electronics – it's always going to be there.
Of course, the key is to dispose of these things gradually, as they are created. But not everyone has time to make regular trips to the recycling centre or charity shop.
And then there are those times when mess and waste just multiplies; this is usually during house moves, renovations and DIY for example.
What's the best course of action for removing built-up rubbish quickly, efficiently, affordably and cleanly?
Are skip bins the best solution?
When it comes to skip bins, if you're familiar with using them, you'll know how convenient they are.
If you're new to skip bin hire, chances are, you're just unsure. You'll probably have a lot of questions to ask. That's ok! That's why we're here.
How does skip hire work?
It's really simple. The first step is for you to choose which skip bin you want – that includes which waste type you have and how much of it.
Next, you choose which day you'd like the skip bin delivered and how long you'd like to keep it.
Skip Bin Finder understands that knowing which type of skip bin you want and how large it should be can be confusing for newcomers.
This is why we've made it simple with our 3-step booking system.
All you need to do is enter your postcode – which allows our automatic finder to locate your closest suppliers. Then you'll be asked to choose from a selection of waste types and, finally, which date you'd like your skip bin to be delivered.
Choosing waste types for a skip bin
Once you understand how it works, it's not difficult to select the best skip bin type for your needs.
There are a number of different skip bins meant for different waste types.
The reason it's organised in this way is to aid recycling. For example, a soil and dirt skip bin mustn't be filled with plastics in addition to soil and waste because we won't be able to send the soil and dirt off for reuse.
Same with green waste skip bins – we need only biodegradable green waste, which can be turned into mulch at a recycling plant.
This is one of the ways in which we support efforts to reduce landfill in Australia. By organising waste in this way, we can contribute to keeping Australia green and reducing landfill.
We don't just offer green waste and soil waste collection, though! We have skip bins available for almost every type of rubbish.
general
green
concrete & brick
soil & dirt
mixed waste
From those, you should find a good option for your needs. Each type of skip bin is available in many sizes. That means you'll be able to choose a small skip bin for your small DIY job or a huge one for your building job – and, of course, everything in between.
Choosing your day for delivery
Selecting a day to deliver your skip bin should be simple in theory. Look at your schedule, decide which day suits you best and choose that day.
However, if you work full-time or have other commitments, it can be tricky. Consider the free time to fill up your skip bin and choose the day before that day if you think the time will be very tight.
This is because sometimes, there can't be a guarantee on what time your skip bin will arrive. For example, suppose you book your skip bin to arrive on Monday – because you know you want to fill it up on Monday.
Monday might come around, and the skip bin supplier could have many deliveries to make, meaning your skip won't arrive until late afternoon.
This is why it's best to book your skip bin to arrive the day before you know you have time to fill it up.
Book collection for the day after you've filled it up. Extra time with your skip bin won't cost much, but it will be more convenient.
Taking your rubbish to the dump – just how eco-friendly is it?
One of the biggest issues with dumps is that much waste is sent to landfills. Landfill sites are bad for the environment because they produce many toxic gases that damage the ozone layer.
They can also cause issues in the land around them – chemicals and noxious water can seep into the earth and even into the local water sources.
Although great strides have been made to improve the safety of landfill sites in recent years, it's still far from perfect.
If you decide to journey to your local dump, you will need to fill and empty your trailer yourself. You'll still need to pay to dump the waste – plus pay for your own fuel.
Using dumps takes time, energy and fuel – skip bins are faster, simpler and affordable.
Skip bins are simple, affordable and fast
One of the great things about skip bins is how affordable and fast they are. If you're pushed for time, you can have a skip bin on your doorstep tomorrow.
We always offer next-day delivery because we know our customers can't always predict their waste removal needs.
When it comes to convenience and the question of skip bins or dumps – which is better – there's no doubt that skip bins cannot be beaten. You can take advantage of the fast delivery and how much waste you'll be able to dispose of in one go.
Book your skip bin for as many or as few days as you'd like.