Skip bins Carlisle, 6101 are always in high demand.
This attractive and popular area is extremely popular due to it's attractive, tree-lined streets, it's high quality housing and good amenities.
In only 10 minutes, residents can travel via the excellent train service from Carlisle to the city centre and it's this proximity to the CBD that helps make it one of Perth's most desirable areas in which to settle.
Archer Street and Carlisle Entertainment
Archer Street is Carlisle's centre. It's full of excellent food options and shopping. Not only that but close by are gorgeous green spaces such as Fletcher Park and Zone TX.
With so much hustle and bustle in Carlisle's central area, it's little wonder that local businesses need support with waste management.
Skip bin hire in Carlisle is one of the most popular ways for cafes, restaurants and shops to deal with their regular waste.
Skip Bin Finder is the premier skip supply and hire business in the area. We've worked here for a long time and know the residents and streets well.
Skip Bin Finder offers next day delivery and a huge range of skip bin sizes and types.
It's this which has made us so popular - added to our low costs and friendly service of course!
Property in Carlisle and Skip Bin Hire
The amount of property available in Carlisle does vary. It's very sought after because of excellent schools and transport links - plus of course the generally attractive nature of the area.
People want to live or work here so when a house or business venue becomes available for sale, there's almost always a LOT of interest.
We work with those moving out - and those moving into Carlisle.
Moving house, junk removal and clearances in Carlisle
When you're moving into a new property, or out of an old one - there's always a lot of work to do in terms of rubbish removal in Carlisle.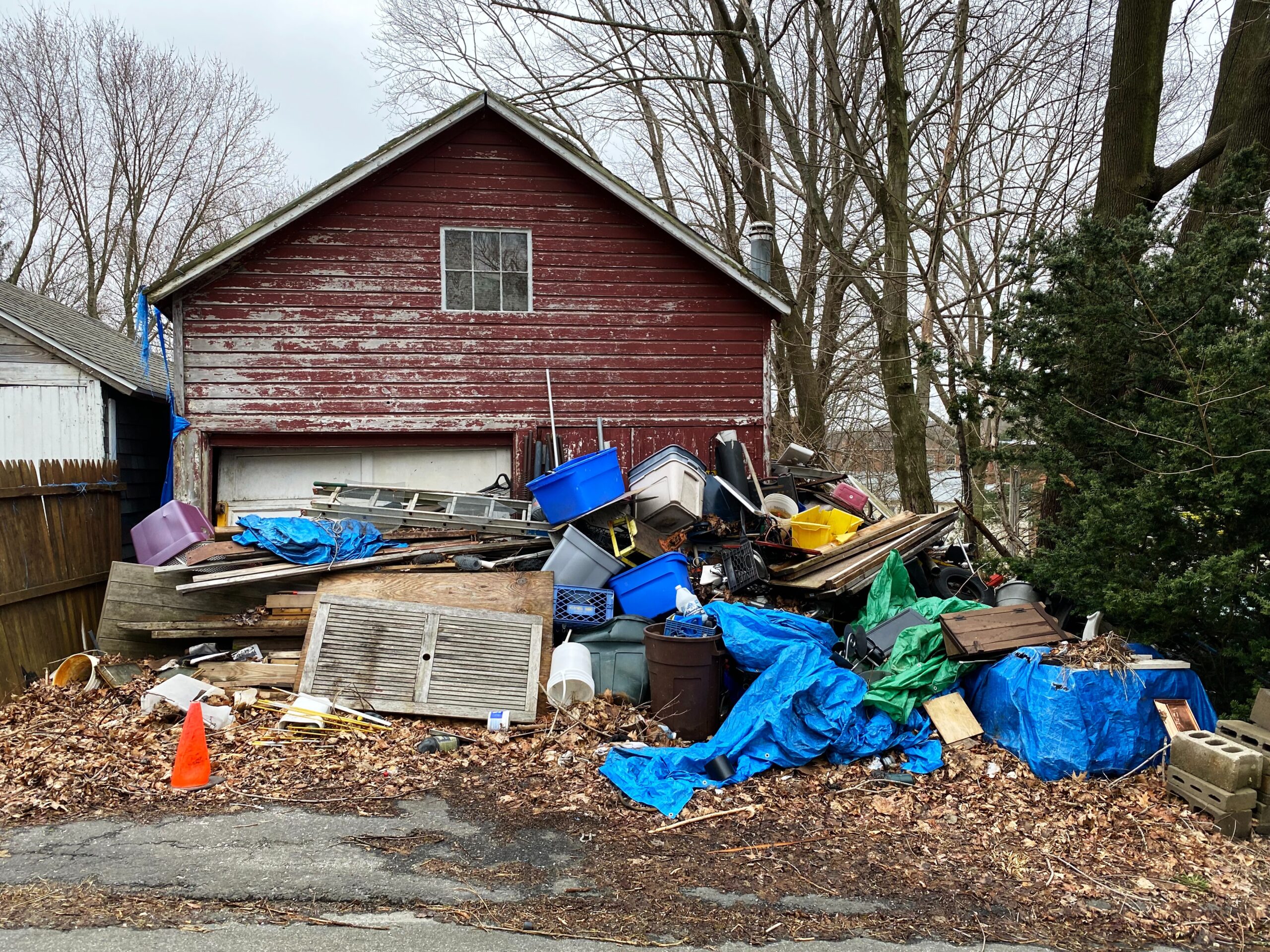 Skip bins Carlisle are always needed and we work with the best local suppliers. This means that when you book with us, thanks to our unique booking system, you have immediate access to the best, Carlisle skip bin hire.
What do we mean by "the best skip bin hire in Carlisle?"
Simply put, we mean you won't be disappointed. We aim to supply you with the best of the best. That's why our relationship with our team is great.
We hand pick all of our suppliers so we only work with the top skip bin hire in Carlisle. Our operatives are fast, cheap and friendly.
You simply enter your postcode and choose your skip bin type. When you've done that, you need to choose a date for delivery and a date for pick up.
You're in control of the entire process. You get to choose the length of your skip bin hire and you get to choose which skip bin size and type.
How do I know which size skip bin to order?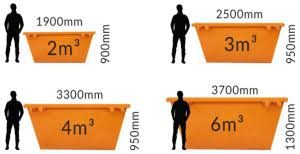 This is much easier than it seems. If you're new to skip bin hire in Carlisle, you may think about questions like, "how do I work out how much rubbish I have?" or "How do I know how much rubbish will fit in a skip bin?"
If this is the case, take a look at our handy skip bin size page. There's a guide there which will show you how much will fit in each size of skip bin.
What can I put in a skip bin?
Another common question. Most people who are new to skip bins have some concerns about what they may and may not place in a skip bin.
There are some restrictions - mainly due to safety. Read on to learn more about what can and cannot go into skip bins in Perth and specifically, Carlisle.
Can mattresses go in skip bins in Perth?
Good question! They can but you should give us a heads up regarding size and type before you book your skip bin. Just let us know in advance when you fill in the booking form.
Can I put paint in a skip bin in Perth?
No. You cannot put paint in a skip bin anywhere in Australia. Paint is classed as hazardous waste and it needs to be dealt with accordingly. Please visit The Town of Victoria Park's dedicated recycling page to learn about where to take old paint.
Can I put batteries in a skip bin in Perth?
Another no-no! You cannot put batteries in a skip bin or in an ordinary household bin! You cannot place them in your recycling bin either. The reason for this is that they are extremely unstable and can spontaneously burst into flames. If that sounds alarming - that's because it is! Batteries have caused fires on skip bins in the past, so please visit the page linked above to find your nearest battery recycling point.
What size skip bin should I order?
You'll be pleased to know that Skip Bin Finder has a massive range of sizes available for you. We know that some people have smaller waste amounts than others so we do offer mini skips Carlisle. We also offer the sizes listed below!
Size Range of Our Skip Bins

•2m3 Mini Skips
•3m3 Mini Skip Bins
•4m3 Small Skip Bins
•6m3 Large Skip Bins
•7m3 Large Skips
•8m3 Extra Large Skip Bins
•9m3 Extra Large Skips
•11m3 Hooklift Skip Bins
•15m3 Large Hooklift Skips
•30m3 Extra Large Hooklift Skip Bins

If you would like to know more about what can and can't be recycled in Perth, take a read of the new rules here.
Which Skip Bin Would you like?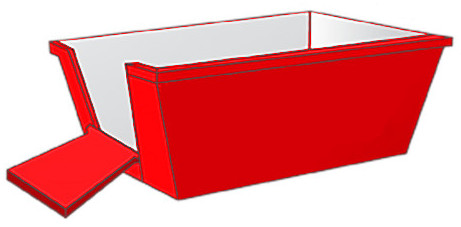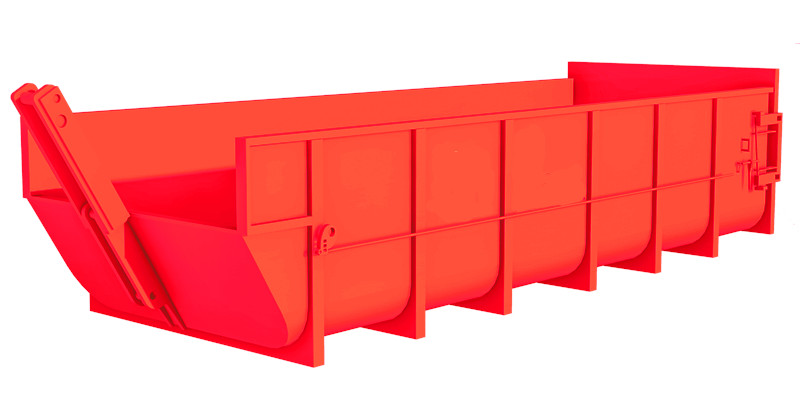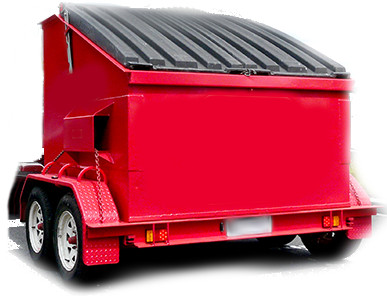 The map below is where our Office is located. 4353 202/37 Barrack Street, Perth
Skip Prices for Carlisle Perth
The pricing figures below are just an example only for 2 cubic meters. The pricing Perth City 6000 can be subject to change.
It's best to go through our price quoting system by clicking on the "book your skip bin now" below for the latest details.
Note: The quote price does not include permit charges given by the local councils in Perth.
We are committed to providing affordable skip bin hire at the highest quality.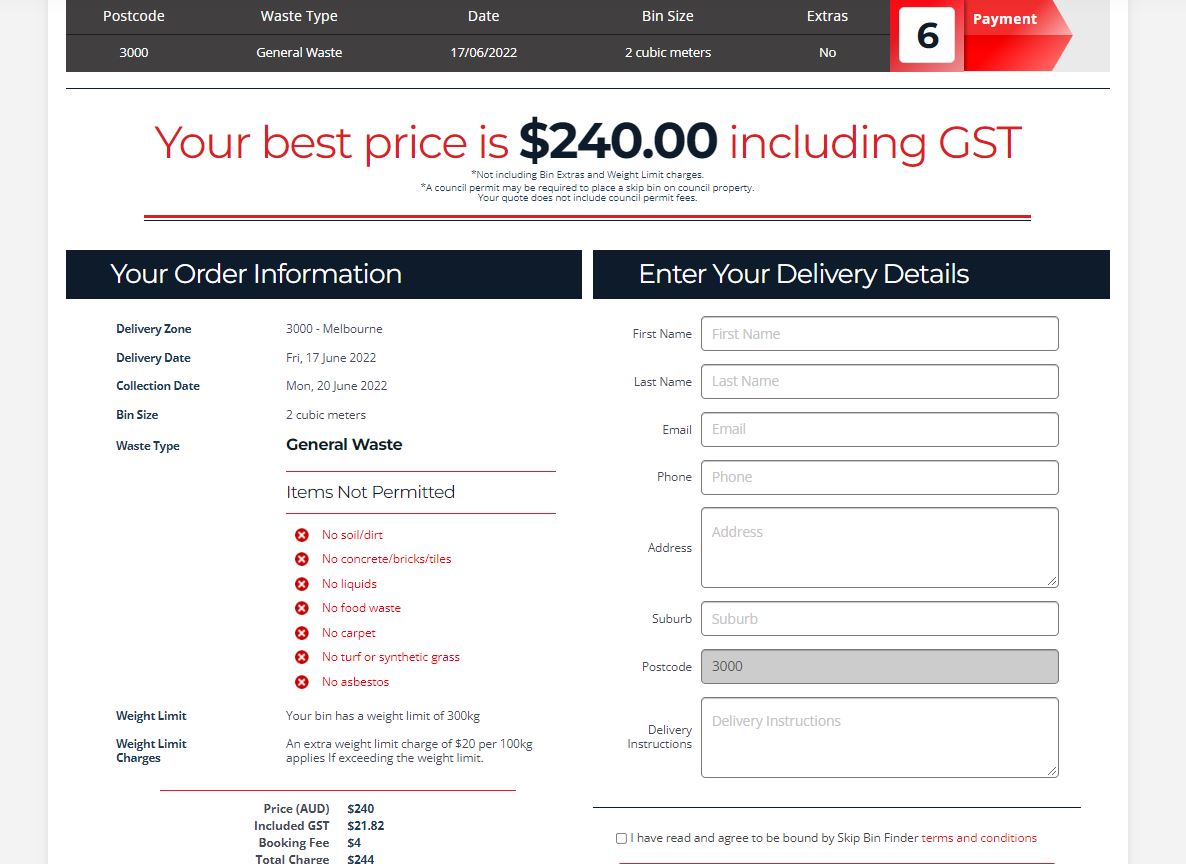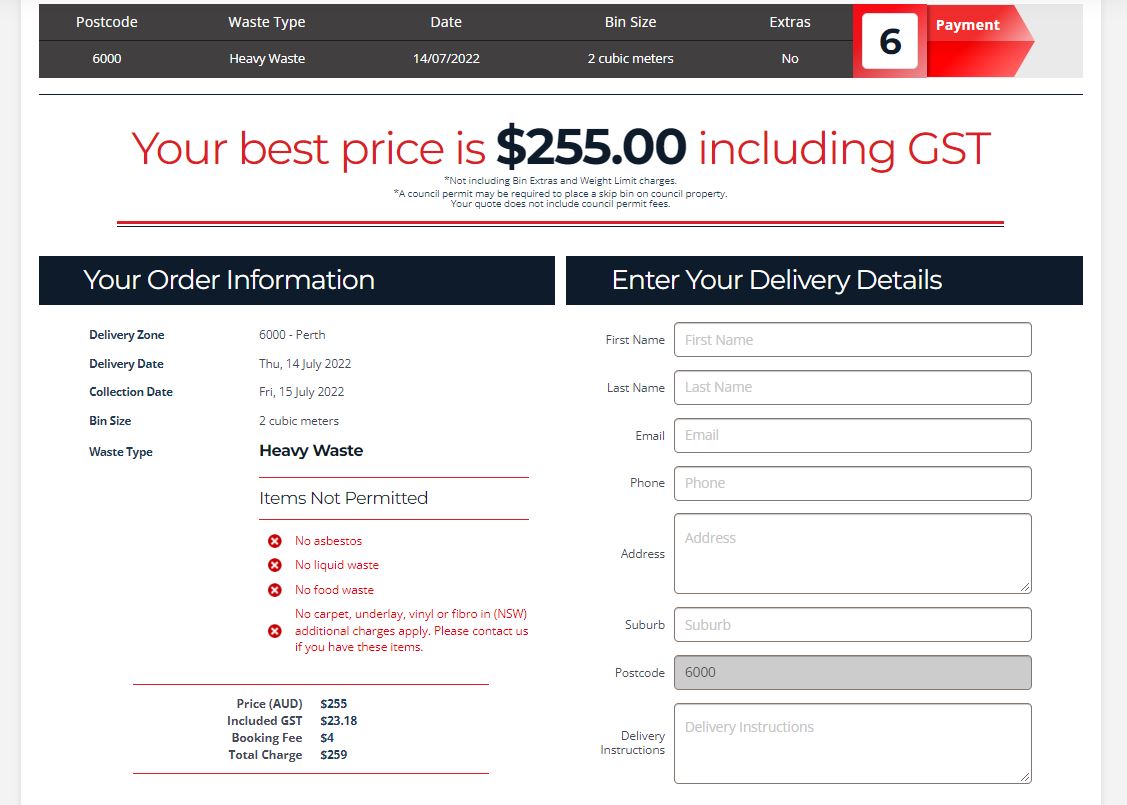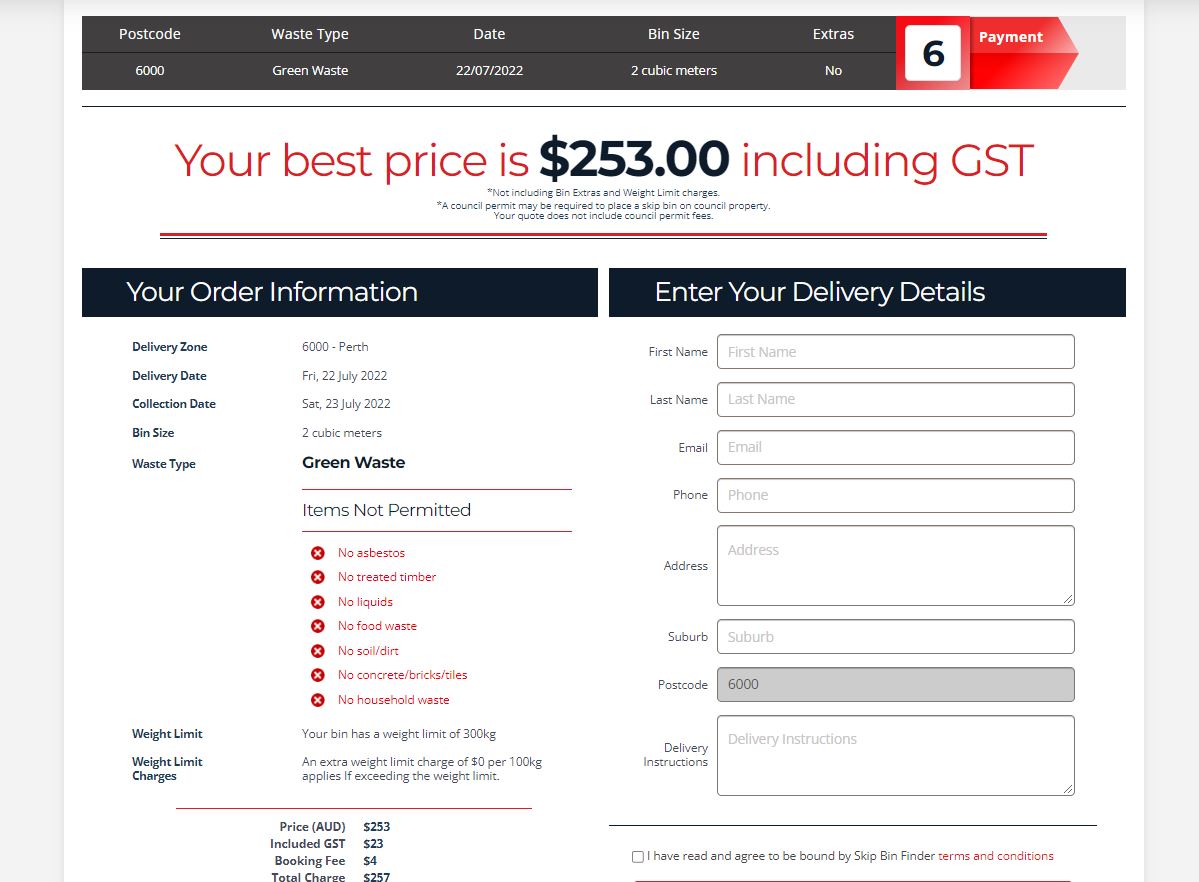 Service Areas of Perth
Here is a list of areas we deliver too with their postcode:


you'll discover the best deal
Small or Large range
of skips
Our Service Selects the right skip
Are Skip Bins Eco Friendly?
Yes! Skip bins are a very eco-friendly way to dispose of unwanted rubbish. This is because we take extreme care to make it that way!
We offer different skip bin types so that recycling the contents is even easier for us. For example, our green waste skip bins are designed only for green waste. That means we can take that green waste and send it to be turned into useful compost - and not sent to landfill where it will create noxious gasses and contribute to global warming.
The same goes for our mixed waste and general waste skip bins - as well as our timber or soil skip bins. The whole system is designed to make it easier for you - and easier for us to keep Australia beautiful!
Carlisle has some of Perth's most lovely green spaces - so we want to keep things looking beautiful and safe for wildlife.
Let the professionals with the right experience handle your waste the correct way!
Fast, Affordable & Friendly Skip Bin Hire in Carlisle
Book with us and you can receive a skip bin tomorrow! We're that fast. Not only are we fast but we also pride ourselves on offering the lowest prices.
Combine that with our friendly service and you have an unbeatable skip bin hire service.
We deliver right across Perth and all suburbs - including -
Burswood Peninsula and Burswood South.
Carlisle.
Como.
Crawley and Nedlands.
East Perth and Claisebrook.
Highgate and Mount Lawley.
Lathlain.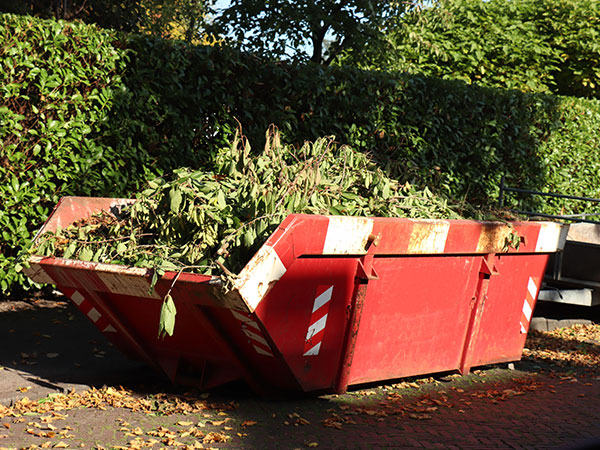 Skip bins Carlisle make much more sense than dump runs.
When you try to dispose of your own larger amounts of junk, you waste time, muscle power and fuel! Skip Bin Finder brings the skip bin to your doorstep so all you have to do is fill it up.
We help you save money and time! If you have any questions, do get in touch and our friendly team will be more than happy to help!


We Pickup These Waste Types:
After working hard in your garden, you don't want to deal with the leftover green waste!These bins can provide waste management for any type of green waste and organic materials such as tree branches, weeds, garden waste and shrub and tree clippings.

Spring cleaning or sorting out the 'junk room'? These bins are perfect for your household waste, from clothes and cardboard to furniture items and appliances.

Doing a demolition or hard-hitting renovation? We've got you covered with our heavy-duty skip bins for rubbish removal of roof tiles, bricks and concrete.

There are specific bins for an especially difficult type of waste. Get rid of your piles of old soil or gardens full of dirt with our soil and dirt skip bin.

With the ability to remove materials that come from domestic or commercial demolition waste, construction or renovation - this skip bin is the one you'll want in your corner when it's time for clean-ups and massive overhauls.
Choose us to secure a skip bin for your upcoming project or growing pile of difficult heavy waste. Our skip bins are suited for mixed waste to grass clippings and can be delivered to your door with short notice.
With friendly service and good range of skips, our Perth customers love our simple waste management solutions. We Keep the streets of Perth clean while working with locally owned businesses and home owners.
To enquire about our skip bin sizes & prices, give us a call on


1300 527 415

. Our Staff are here to assist you!