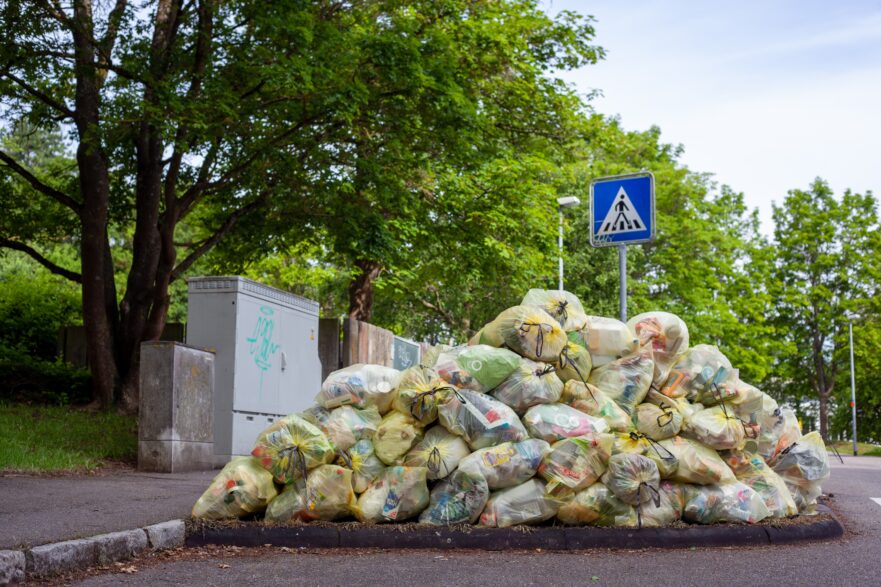 Small Skip Bins – How Mini Skip Bins Make Clear Outs Simpler
Small skip bins are usually between 2 and 4 cubic metres in size. A 2-metre skip bin is a mini skip bin, while a 4-metre skip bin might be considered a midi skip bin.
Small skip bins, or mini skip bins, are perfect for those jobs where there's too much rubbish generated for your council rubbish collection but not enough for a big skip bin.
Tasks include shed clear-outs, bedroom renovations or even after Christmas when there always seems to be extra waste to dispose of.
How much can you fit in a little skip bin?
A lot! A 2m skip bin will hold the equivalent of 8 wheelie bins worth of rubbish or around 2 enclosed trailers.
This is plenty of space for all of your excess junk.
Small skip bins are perfect for spring cleaning.
If you're planning a spring clean, then you're probably aware that these always result in a lot of junk! No matter how hard you try, every home generates a rubbish collection. It has to go somewhere, but you can't just put it in your general waste collection because, usually, it's too much.
Every room in the average home has a collection of things for which the owners have no use.
In children's rooms, it might be toys that have been outgrown or old clothing. In cupboards, we all find shoes that have worn out, broken gym equipment or old ornaments/lamps that are no longer used.
When you're spring cleaning, it makes sense to go through every single room, every cupboard, drawer and shelf and ditch the rubbish.
Why not have a regular clean-up to keep your home dust-free and your storage areas clean and ready to use? Ordering a skip bin will make the task much simpler.
You can empty your home of junk and simply throw it into your skip bin immediately.
Because you get to choose when it's collected, you can time your clear-up to suit your time constraints.
Skip bins for renovations
Not all renovations create masses of rubble, bricks and timber. Some might be smaller projects which only produce a little waste.
For example, you've stripped old wallpaper from the walls or maybe some old rugs and curtains. A mini skip is ideal for projects like this.
What can you put in mini skips?
Most things! If you book a small mixed waste skip, you will find it good for all sorts of rubbish.
Timber
Textiles
Paper and cardboard
Toys
Metal
Plastic
Kitchen appliances
Gym equipment
The convenience and ease of mini skip bins are not to be underestimated.
Why are mini skips better than visiting the dump?
Mini skips are much better than dump visits because they're more convenient. When you're already busy clearing up your home, you don't need to waste time on dump runs.
Dump runs cost money, fuel, time and energy. Skips are simpler and allow the user more freedom – you can take your time to fill a skip up, perhaps manage the job over a weekend.
Mini skips aren't large, so they easily fit into your driveway or garden. This means you don't need to pay any permit to the local council.
How to fill a mini skip?
Filling a skip is easy. Just remember, don't throw things in chaotically. Plan what is to go inside the mini skip first.
It's best to put flat things inside the skip first. This might include things like broken down boxes or pieces of timber.
You can add the bulkier items once you've laid the flat items inside. Stack them so that you're fitting things in around one another.
This will save space and ensure you avoid creating air pockets in the skip.
Are small skip bins eco-friendly?
Skip bins and mini skips are a very eco-friendly waste management method. When you use skip companies for your waste removal, you contribute to ensuring less waste in landfills.
The landfill is bad for the environment – skips are often sorted, and the contents are recycled. This is always the best option.
Are mini skips clean?
At Skip Bin Finder, we ensure that our operatives clean up after collecting each skip. That means sweeping the area where the skip was parked and ensuring that no additional waste has escaped the skip.
We don't want spilled rubbish – that way, it won't blow into the general environment and land where it doesn't belong, such as our waterways.
All bins are washed between uses, too. When your skip arrives, it will be clean, empty and ready for you to use.
If you have any questions, please ask us for advice on booking or using mini skips. We've been in the waste management industry for a long time. Our team has decades of shared experience and is always pleased to help.