Why Hire a Mixed Waste Bin?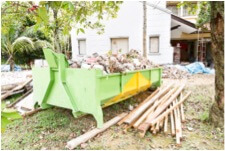 Hiring a mixed waste skip bin is the best solution for a range of domestic and commercial projects. It is best to separate the rubbish to recycle as much as possible – we understand that sometimes this isn't possible.
Mixed waste bins are suitable to carry everything from green waste to general waste, bricks, pavers, concrete, clean fill and sand. Our skip bins make your hard jobs easier, so heavy waste is completely removed.

Skip Bin Finder asks that you don't include asbestos, paint tins with lids on and paint in them. Mixed items like mattresses, tyres, computer monitors and televisions can be included into a mixed waste skip bin. We ask you place them on top of your skip bin and notify us of the items at the time of the ordering.
What is Mixed Heavy Waste?
The materials that are in buildings will often range from plastic to wood or carpet. These materials are classified as mixed heavy waste, as some of these waste types are impossible to recycle. They will be deposited securely in landfill sites in each state of Australia. (VIC,NSW,WA,SA,QL). Some building materials are recyclable however won't fit into other categories for waste disposal. Our mixed waste bins can remove all non-hazardous materials to take the guesswork out of your rubbish disposal and keep the job flowing efficiently.
Other items that are classed as mixed waste are: metals, glass, biodegradable waste including paper and textiles.
Our wide range of skip bins can cater for even the biggest DIY or commercial projects. We are always here to help you to determine what will be the best skip bin for your job.
If you come across hazardous materials or food waste during your cleanup – you will need to contact your local council to dispose of these materials correctly. Specialist teams can assist with the removal and examination of your property as these products are dangerous right up until they're destroyed.
Weight restrictions do apply for Builder & Mixed Waste Skip Bins.
To learn more about all the waste types that our skip bins cater for, please click here.
To learn more about all the waste types that our skip bins cater for, please click here.
We recommended the following bin sizes when your removing mixed waste!
Those sizes are a 2 cubic meter, 3, 4, 6 & 9 cubic meter.