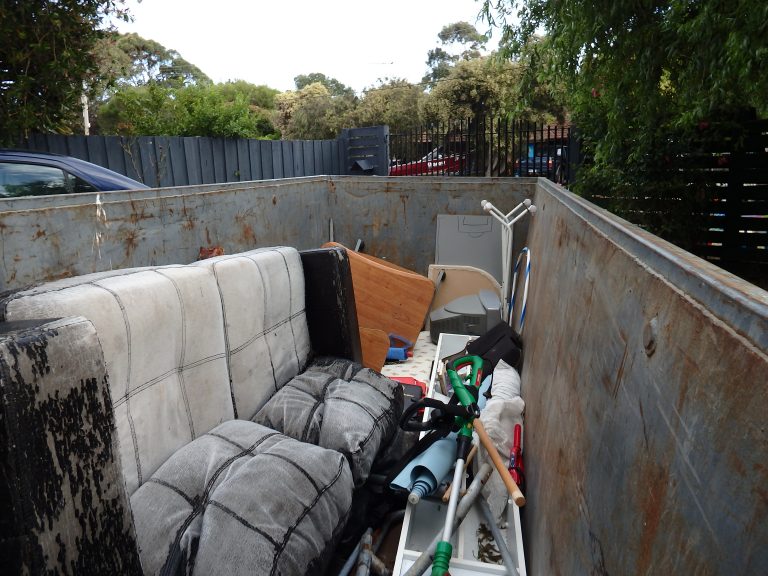 What Can Go in a Skip Bin in Sydney?
What can go in a skip bin? This is something asked by many people who are considering skip bin hire in Sydney.
The answer is quite broad – so read on to learn all about the dos and don'ts of hiring a skip bin in Sydney.
Skip hire in Sydney is super popular
Sydney skip hire is more popular than ever before. Why? People are starting to realise that skip hire is a greener, cleaner, more convenient way to dispose of rubbish than any of the alternatives.
Before we get into the details about what can go in a skip bin in Sydney, let's look at some of the facts about skip bins in Sydney.
Affordable & convenient
Contrary to some beliefs, skip hire in Sydney isn't even expensive – it's actually very affordable. This is especially true when you book with the best skip-hire companies in Sydney. This is because they price compare, so you're always guaranteed the cheapest skip hire.
Dump runs mean hard work and fees – skip hire is a one-off payment and the time to fill the skip at your own leisure. Skips are placed conveniently outside your property and are usually equipped with a ramp. This means you can wheel heavier items up to the lip of the skip bin in a wheelbarrow.
You can choose from various skip bin waste types, so skip hire will work for you no matter how much or how little waste you have to dispose of.
What can you put in a skip bin in Sydney?
This is the million-dollar question – read on to learn more.
Can you put televisions in skips?
You can, indeed, usually put whole televisions into skip bins. You'll need a mixed waste skip bin for this sort of waste, and the television will need to be whole and undamaged.
Crushed glass from cathode ray tubes (CRTs) is not permitted at landfills, so you cannot place this into a skip bin. Intact televisions are fine with most skip bin suppliers, but it's always best to double-check first.
Can I put asbestos in a skip?
The short answer is no – while it is possible to hire skip bins that are specifically designed for the removal of asbestos, you will need first to communicate with the skip hire company to request this. Asbestos is extremely dangerous and requires specialist knowledge and equipment for its removal. Never be tempted to try to manage it yourself.
Can I put mattresses in a skip in Sydney?
Sometimes – you'll need to communicate your needs to your skip hire company in Sydney to be certain of their rules. Some companies will charge extra for the removal of mattresses.
Can garden waste go in skip bins?
You can book a green waste skip bin in Sydney, and that will be fine for the removal of all sorts of garden waste, including –
Grass clippings
Branches
Tree stumps
Hedge trimmings
Weeds
Windfall fruit
What can't I put in a skip bin in Sydney?
Whilst you can sometimes arrange with skip bin suppliers to remove some usually prohibited items, it's always best to check first – the following is a list of items you CANNOT place in skips.
Asbestos
Gas cylinders
Animal waste
Explosives
Batteries (these can cause fires)
Oil of any type
Paint
Glue
Tyres
There are many alternatives to skip bins in Sydney when it comes to those materials that cannot be put into skips.
The NSW Department of Planning, Industry and Environment has an excellent guide on how and where to dispose of toxic waste such as paint and oil.
E-waste and skip bins
What is e-waste, and can it go in skip bins?
computers and their associated parts (including monitors, printers and keyboards)
televisions
DVD and CD players
mobile phones
power tools
hi-fi systems
kitchen appliances
There has been much progress in recent years regarding keeping waste out of landfill sites. In case you weren't aware, landfill sites are not good for the environment.
Recycling initiatives from local councils and big businesses are joining in and making it much easier for people to dispose of plastics and e-waste conveniently and safely.
Several larger stores now have battery disposal containers within their premises. These cater for people wishing to dispose of plastic bags and other containers.
E-waste for a good cause
If you would like to see your e-waste going to a good cause, several initiatives are designed to repair and refresh used mobile phones and computers. This helps people in need who might not otherwise have access to devices such as laptops or mobile phones.
Mobile Muster is one such charity. This organisation accepts all brands and types of mobile phones. There are more than 3,000 drop-off points and a free postage service.
By using skip bins alongside other carefully managed schemes, you're doing your part in helping keep Australia beautiful.