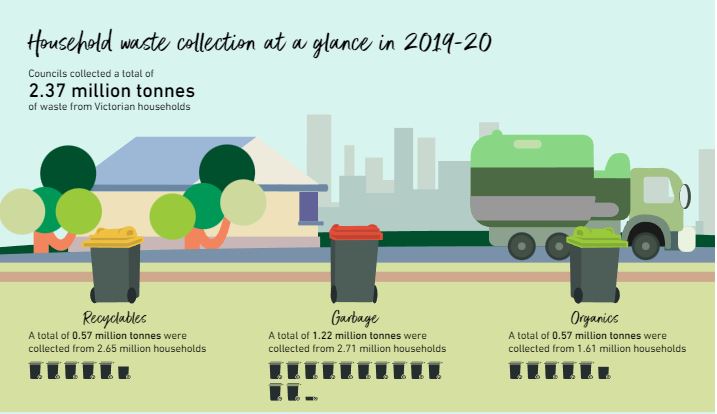 What Happens To Waste After It goes Into a Skip Bin?
image courtesy of sustainability.vic.gov.au
What happens to waste after it goes into a skip bin? This is a question asked by many people new to skip bin hire.
Waste is a big issue today, and what happens to waste after it goes into a skip bin is important. Did you know the Victorian government reported almost 2.37 million tonnes of waste for 2019-2020?
Of these figures, only 0.57 million tonnes were recyclables—1.22 million tonnes of household waste and 0.57 million tonnes of organic waste.  Depending on the type of rubbish, each waste type goes through variant processes.
This includes:
Material upturn
Container dump and drop-offs
Landfills
Processing operations
Generally, whenever you hire a skip bin in Melbourne, your waste material either goes through material recovery and reuse or to the landfills. It all depends on the waste you put inside the skip bin.
There are four approaches to removing waste
Disposal
Recycle
Recovery
Storage
Here is a description below of each waste handling method:
Disposal
Disposal is easy. Usually, it involves dumping rubbish into landfills; however, not everything dumped at landfills is not reusable. What happens to waste after it goes into a skip bin is important because it's part of the recycling effort.
The continuous decomposition at landfill sites generates methane gas. The methane gas is used for electrical generation but is often left there, entering the atmosphere.
You can contact us here.
Recycling
The recovery facilities will handle recyclable waste with ease. Normal house rubbish includes plastics, metals, glass, E-waste, and white goods. All these materials are recyclable.
The recovery facility forms all the recyclable materials into one raw material.
Recovery and storage processes of waste are included in the recycling process. Even if the waste has passed the disposal, there can be impurities that prevent materials from recycling.
Recycling household rubbish is critical as many things can be reused instead of ruining the environment and atmosphere.
Why should you hire a Licensed Professional for Skip Bins?
Nobody can recycle and dispose of waste without the correct skillset. It requires proper training and knowledge to figure out which materials are recyclable and which are not. You should always go for professional waste management, like Skip Bin Finder.