Which General Size Skip Bin do I choose before I order a Skip?
Estimating the general skip you need can sometimes be tricky before cleaning up any mess on your property.
Many people struggle with working out the skip bin size they want before calling our offices. We've come up with some handy tips to help pinpoint how much rubbish you can get rid of. This will help you to order the right size skip bin for the right job.
Ordering a skip bin for garage clearances is going to be different than ordering a skip bin for home renovations.
Below are some helpful hints and tips for when you're unsure about the skip bin size to order.
What do you need to know about General skips?
Bathroom renovation: When renovating your bathroom, you'll want to dump old cupboards, baths, shower screens and tiles in addition to the packaging for any new fixtures and fittings. The size of the skip bin you will need for this job would likely be 3-4 cubic metres. When ordering, ask for our Marrel Skip Bin, which is great for smaller jobs and easy to access with a wheelbarrow.
Kitchen renovation: With kitchens, there's a definite room for variation. Some kitchens can be fitted into others many times over! Let's assume your kitchen is an ordinary one with a few banks of units, a sink and a stove. A skip bin of 4-5 cubic metres is ample in this case.
Moving house: If you've got a lot of junk to get rid of, then it's best to order a fairly decently sized skip bin container. Most big clear-ups for a house move will necessitate the removal of old white goods and old furniture. We find that a skip bin of between 4-6 cubic metres is ample for a move like this.
Deceased estate: The task of emptying a friend or relative's home after they've passed is never easy, so make sure you're prepared and order a large general skip bin because a deceased estate means a lot of things to throw away. Most deceased estates may need a skip bin of 20 cubic metres.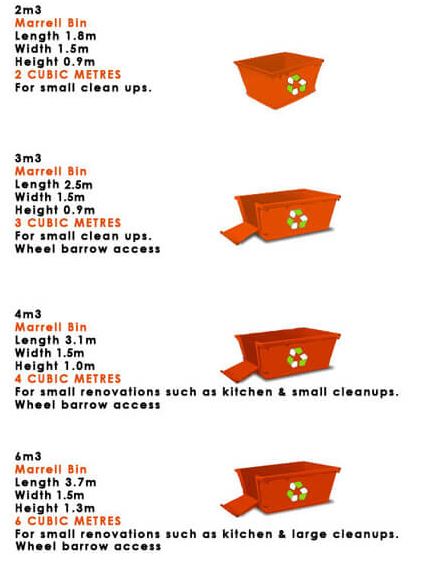 Get in touch for more assistance! We're here to help.
If you're unsure or need further guidance, don't hesitate to get in touch with us by calling our Skip Bin Finder Office on 1300 527415. We're always happy to help when it comes to our customers, and our friendly, knowledgeable staff is in place. – If you would like to read more specifically about general waste, please take a read of our guide here. You can be confident that you're dealing with experts in waste management! You may also want to research your recycling habits before you order a skip bin just in case you can reduce the size of the skip bin you need to order.