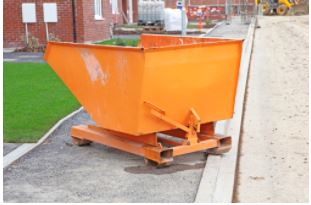 Why Hire a Mini Skip Bin For Your Rubbish Removal?
A mini skip bin is the smallest size bin you can hire. Their size ranges from 2m to 4m and contains the equivalent of 8 to 12 wheelie bins worth of waste.
There are many situations where a mini skip bin is the right solution for rubbish removal. If you've never hired a skip bin before, the purpose is the easy removal of waste from your property.
Why use a mini skip bin?
You might want to use a mini skip when cleaning the garage, overgrown gardens, or neglected areas around the home.
At first, it's just a few bags of rubbish going into your wheelie bins, but you may quickly realise there's too much for your wheelie bins to handle.
You could do multiple trips to the tip if you have a trailer or Ute. But there is an easier, more cost-effective solution with Skip Bin Finder.
By planning ahead, you can have all of your waste disposal done with the least amount of effort. Just place all the rubbish into the skip and watch it be transported off your property.
---
Working on a small project outside or renovating a room in your home this summer?
Here are the benefits of hiring a Mini Skip
#1. Ease of Hire
Hiring an affordable mini skip bin service is very easy. One just needs to provide the hiring agency with the requirements, and they will send the skip bins accordingly to the location.
We will perform a Google Map lookup of the street and the driveway conditions before you order, so the skip bin truck can deliver it safely.
#2. Easy To Use
Another advantage of using mini skip bins is that they are an easy method of disposing of waste.
#3. Exceptionally Reasonable
Hiring mini skip bins is quite affordable, and one can save a lot of cash on the transportation of skip bins.
#4. Saving Time and Efforts
It saves much time and effort to transport the rubbish to the disposal site. The time which is saved in this way can be utilized for other activities.
#5. Environmental Conservation
This method of rubbish removal helps protect the environment; otherwise, people will just dump the waste anywhere in order to save expenses of transporting the waste.
What kind of waste can you put in them?
People can fill mini skip bins with a range of household waste, including green waste – branches, dirt, leaves, small tree stumps, and any greenery that would normally fit in your wheelie bin.
You can also use mini skip bins for construction materials from a home renovation or landscaping, including cut-offs from paving stones or garden edging. Nails, wiring, concrete, tiles, brick, rubble and debris are all good to go, but hazardous waste, food scraps, all oils, wet paint, contaminated soil, toxic and flammable material, batteries and asbestos are not allowed in your mini skips.
Mini skip bins are not for disposal of hazardous waste such as asbestos. Visit asbestos.vic.gov.au for more information.